Wonderful Support
I have to say I am so touched by the response to my previous post about being
crucified
lambasted
mildly criticized on a blogging forum. I am the first one to admit I am a card carrying histrionic over-reactor. So sue me. I maintain hyperbole is one of life's great pleasures and keeps things interesting.

At any rate, I may have over-reacted a teeny, tiny bit, but I still stand by
Operation Nice
, because nice is a good thing to be. You can see that in all the lovely comments left all the nice people I am surrounded by.

The Cat
I have always loved animals and was not allowed to have a pet as a child, which made them all the more attractive. Since I have had my own household, cats have been a constant. Dogs frequent, but cats constant. I truly love cats and I could be a crazy cat lady in a heartbeat, although my daughter maintains I already
am
a crazy cat lady. Harrumph. I could easily have 20 cats if I didn't control myself and limit it to my current two. The ASPCA had a sign outside this week that said "KITTENS" and I almost crashed the car.
It is a well established fact, I am a cat person.
So I am humbled to say…almost whisper…one of my cats is DRIVING ME OUT OF MY COTTON PICKING MIND!!!
Technically, she is not mine, but my oldest son's. He and a previous girlfriend adopted her and the girlfriend thought it would be funny to call her Perri, 'little dog' in Spanish. Hardy har har. Or maybe it was his idea and he said it was her's so I wouldn't think he was an idiot. Whatever. Girlfriend goes, cat stays, new girlfriend (subsequently wife) comes, cat goes. It happened more subtly than that, of course, with plaintive comments about his life as a busy lawyer, cat is lonely, no fair to the cat, poor cat, sad cat, cat feels abandoned, cat needs therapy…ok, ok, I'll take the freaking cat!
My daughter picked her up in Jersey City on her way home from Manhattan College at the end of the school year five years ago. The fact that Perri literally caterwauled all the way home to the Jersey Shore was our first clue that this tiny little tuxedo was more than she seemed.
Much more. More everything. More jumping on things. More knocking things over. More breaking things. More puking from eating too fast. More meowing (a piercing, ear splitting meow) to go out, which I do not allow. More always trying to get out. More clawing at the screens. More unfriendly. More all over teeth-clenching aggravation than any cat I have ever had. Although she is very pretty and silky. End of redeeming qualities.
Through a quirk of coloring, she always looks as though she has a frowny face.
And coincidentally, she is a total pill. Does not cuddle, does not like to be petted, but loves getting in the way.
I have not slept through the night, or lying down, since I broke my shoulder two years ago. I doze for an hour or two, then I am awake for another few hours, then doze again. Last night, for the first time in I don't know how long, I was still sleeping at 2:30 a.m. When I was woken up by a cat screaming. A cat outside in the storm. A cat that sounded suspiciously like…my cat.
I stumbled to the back door, barely made it down the steps, opened the door and there was nothing there. Hmmm. I must have been dreaming. Up the stairs, back into bed, pull up the covers and cat screaming starts again. F****k.
Stagger back through the house, down the stairs, pull open the door expecting a little cat to slide in at my feet and I find myself nose to nose with this:
I screamed! She screamed! Thunder and lightning crashed!
Then she dropped to the ground and sauntered in as though to say "What the freak took you so long?" She proceeded to jump up on the kitchen counter and knock over a plant. I never got back to sleep for the night.
Oh, and here is my screen today:
I am starting to
intensely
somewhat dislike her. Don't let her know!!
I think she is watching me.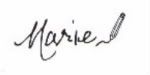 Did you like what you read? Let others know. Thanks!