And what a wedding it was. It is an incredible experience to be in the same space as 200 people who are simply overjoyed to be together. It would not be an overstatement to say the day was
absolutely
perfect
: the company, the weather, the happiness, the fun. And oh, everyone had SUCH fun.
First there was the groom and his handsome groomsmen. With the exception of Claire's brothers, these are boys (ok, men!) that I have known since they were little guys. Not only have they grown up to be stunningly attractive, they are the nicest, kindest, funniest, sweetest people you could ever meet (and I have discovered even though they are new in my life, Claire's brothers also fit into those categories!):
Ryan, looking very cool, calm and collected indeed on the way to the church:
Ryan seeing Claire as she appears at the back of the church:
Here comes the bride:



Makes me cry:





My four, Elizabeth, Mary Kate, Ryan and James:






At the beach:






The reception was a blast. Ryan and I danced to In My Life. The great band kept everyone dancing. Yep, I was able to dance thanks to my dearest friends, who held onto me so I could feel normal. Thanks Michael, Christine, Cathy, Bill and Peter! I danced A LOT with my friends holding me up. The band was awesome and played a lot of Bruce. Of course when they started Jersey Girl, I was in the Ladies brushing my teeth (ok, I'm a teensy bit neurotic about oral hygiene). But within minutes, me, my sister, my best friend Christine were all belting it out. 'Cause down the Shore, everything's alright...nothing matters in this whole wide world when you're in love with a Jersey girl!!! lol

I didn't cry as much as I thought I would. I felt so sad for Ryan that his dad wasn't there. But Ryan and Claire did not forget him. Dennis was mentioned in the program and his memory was evoked at every table.





(I don't know why apples; when I find out, I will tell you.)
My sister-in-law, who I LOVE, sat next to me. My nieces (3 of her 6 girls) were there as well, along with my cousins, my aunts and best friends (I am lucky enough to have even more wonderful people in my life; I only wish I could have invited them all!!). I was surrounded by love. How blessed I am!!

The reason I didn't cry buckets because I was so, so happy for these two, who are clearly meant for each other. I was choked up thinking of my precious little boys, how they have grown and how proud I am of them.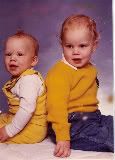 There are places I remember
all my life
though some have changed.

Some forever, not for better,
some have gone
and some remain.

All these places have their moments,
with lovers and friends I still can recall
some are dead and some are living;
in my life, I've loved them all.

But of all these friends and lovers
there is no one compares with you
and these memories lose their meaning
when I think of love as something new.

Though I know I'll never lose affection
for people and things that went before
I know I'll often stop and think about them.
In my life, I love you more.