Time to de-winterize my blog design and think spring.
I have been laid up with a miserable upper respiratory thing but hope to catch up soon. Although there is nothing really to catch up with. Hopefully something hilarious and entertaining will happen in the next few days.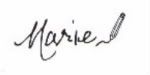 Did you like what you read? Let others know. Thanks!