I miss my grandmother. I miss her with an ache that never goes away.
I miss her now and I have missed her every day since August 6, 2000, the day she died at the age of 95. Even 95 years weren't enough.
Grandma, Katie Daly she was, came here from County Roscommon, Ireland in 1923 at the age of 18. St. Patrick's Day, a day I always sent her flowers and at least talked to her on the phone, if not went for a visit, was a special day for her. Make no mistake, my grandmother was a fiercely loyal American. She told me over and over as a child that the United States was the greatest country in the world, that you had opportunities here you had nowhere else. I once said, "But Grandma, Ireland is so beautiful." And she replied tartly "You can't eat scenery, dear." It was only later I learned details of how hard it was growing up in rural Ireland in the early 20th century. So, she loved America, but on St. Patrick's Day, she was all Irish again.
This day makes me miss her more and always will. I miss her wisdom, her wry wit and dry humor, her stunning intelligence and her sense of fun, her perpetual youthfulness, her beauty, her dignity and grace. Most of all I miss her unconditional love, rarely spoken, but expressed in so many ways.
Beannachtaí na Féile Pádraig, Grandma! I love you. Till we meet again.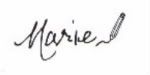 Did you like what you read? Let others know. Thanks!